FINDING THE PERFECT BALANCE
BETWEEN BEING CASUAL AND BEING
ELEGANT IS A UNIQUE SKILL, AND
PARISIANS ARE MASTERING IT PERFECTLY.
LESS IS MORE
Not without reason, Paris has long been considered the center of fashion and style. The so-called Parisian chic embodies this concept par excellence and defines a unique sense of style and the undeniable elegance of its followers. Looking effortlessly good, as if you just got out of bed, while still presenting yourself stylishly – no one perfects this art as well as the Parisians.
The secret of the Parisian style is the art of combining and layering. French fashionistas are masters at combining different garments and accessories to create an individual yet timeless look. The mix of different textures, colors, and proportions builds this unique style that Parisians play with to express their personality. Moreover, Parisian fashion is not characterized by short-lived trends but rather by timeless elegance. Parisians prefer to invest in high-quality pieces like a white shirt, perfect-fitting jeans, or a little black dress – classics that will never go out of fashion and you can wear for years. This approach is not only très très chic, but also très très sustainable!
FRENCH ELEGANCE
Our Paris Collection charmingly picks up the concept of French chic and features numerous easy-to-combine basics such as sweaters, pants, and matching T-shirts in ever-trending colors like black, eggshell, and camel. Motif prints and the classic striped look pay tribute to our favorite city. You can style unique statement pieces like the timeless blazer or the more elegant dresses and tops for the office or an elegant dinner or combine these pieces casually. Cozy additions and perfect for colder days are the extra soft knits and our modern and always trendy quilted jacket.
HERE'S OUR FINELY CURATED SELECTION
OF CHARMING KEY PIECES FOR THE
ULTIMATE FRENCH STYLE: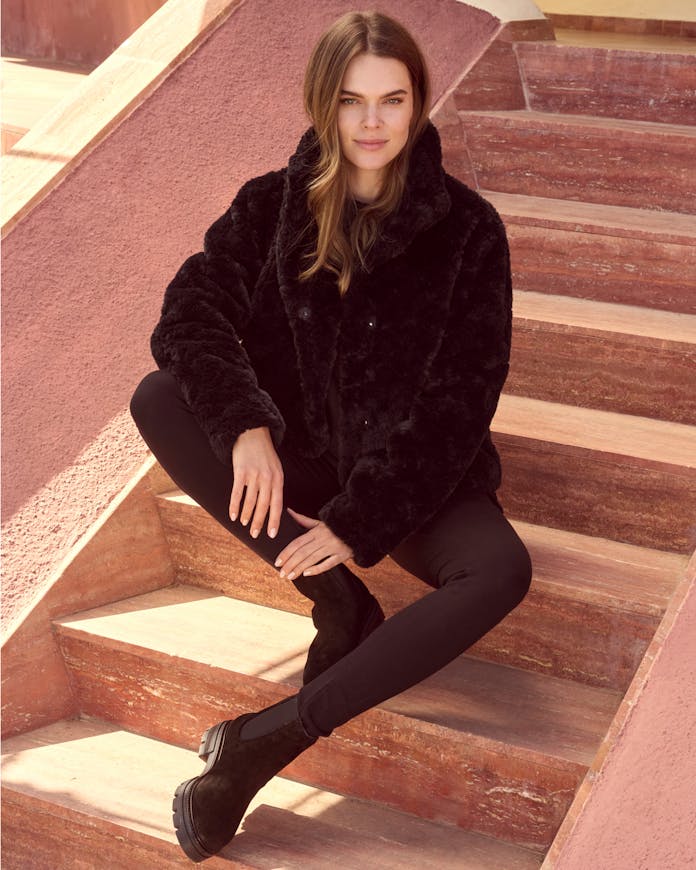 The extra-soft faux fur design determines the jacket as an undeniable key piece. Stylish details like the loose stand-up collar and the side pockets add a casual twist. Combine this piece tone in tone for a classic look!
LE FRENCH STYLE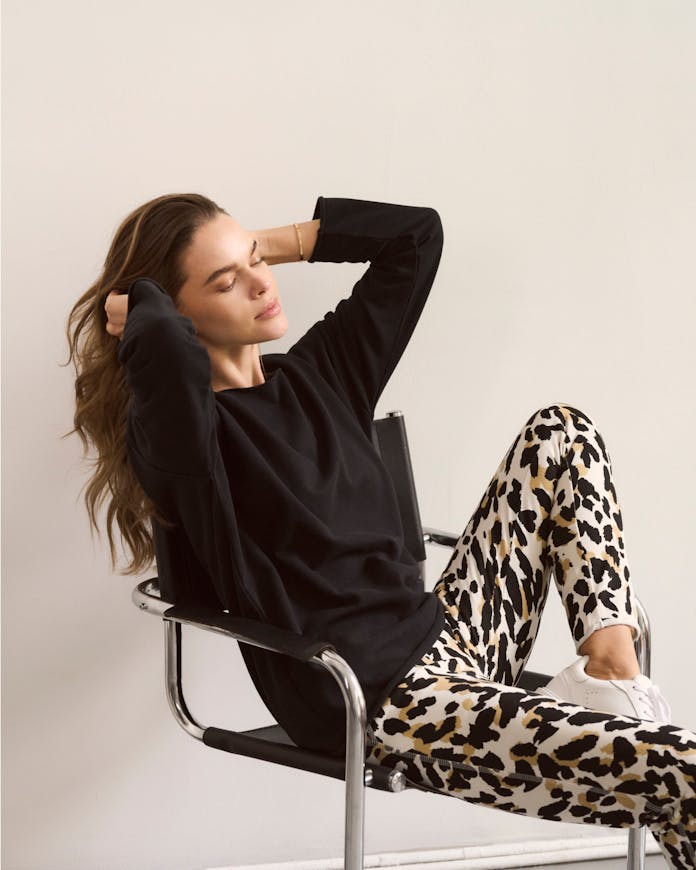 Whether for the evening or as a casual daytime street style – a classic animal print is always a good idea! Paired with pieces in muted colors like black or beige, you'll create beautiful looks with that certain je ne sais quoi. But remember: less is more.
NONCHALANCE
PAR EXCELLENCE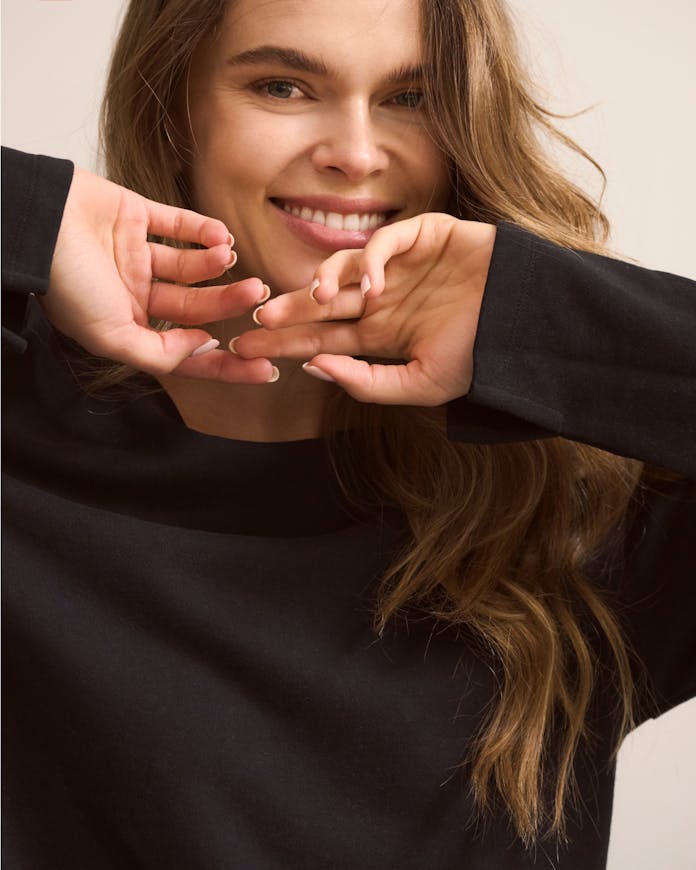 However, a well-groomed appearance is just as important! Parisian fashionistas like to style their hair very casually or hardly at all. Makeup is kept light and discreet. The operating word is natural beauty. Taking care of yourself, smelling good, having healthy teeth, and smiling can't hurt anyone though!
A CLOSET FULL OF CLOTHES AND NOTHING TO WEAR
We all feel that way sometimes! Choosing the right clothes and accessories is all a matter of combination. Most importantly, your wardrobe should be minimalist, clear, and natural. A reduced closet, also called "Capsule Collection" and very much in the spirit of the Parisian style, consists of a few selected classics you can wear in many ways and that you will keep for a long time. Timeless basics in muted colors, one or two statement pieces, and a couple of reliable denim pieces – there is your collection. In addition, you could add slightly oversized and yet feminine items that will make you look good, but more importantly, you will feel beautiful wearing them.
BACK TO BASICS
High-quality basics such as simple monochrome tops or shirts, perfectly fitting trousers, striped shirts, and a classic blazer are essential. In addition, you can never go wrong with subtle yet versatile colors like navy blue, black, white, and beige. A timeless trench coat is always a good choice and can effortlessly be combined with any outfit, no matter how extravagant. Subtle patterns and the ever-popular animal print, in a leopard pattern for example, create depth and dimension and can quickly upgrade any outfit that seems too plain.
IMPORTANT: ACCESSOIRES
Then there are accessories like a high-quality purse, which can be vintage or new, depending on your taste. In this situation, it might be worth investing. Ideally, you will wear your faithful companions forever! In addition, well-selected accessories like bags, jewelry, or sunglasses are perfect to upgrade your style. Another advantage: whether big or skinny, tall or short: accessories always fit! Shoes are a topic in themselves. However, you can never go wrong with the right pair of moccasins, sandals, ballerinas, black pumps, ankle boots, or white sneakers.
NATURALLY BEAUTIFUL
In terms of how you look, hair and make-up play an equally important role, naturalness being the operative word. Style your hair casually as if you just came back from the beach. Have you ever heard of "Le No Make-Up Look?" Yes, that's right, it's a discreet, light make-up that underlines your natural beauty. Typically French are classic red lips and perhaps mascaraed eyelashes – that's all! A look that works for any age, by the way. Bisou! Bisou!
LE CHIC PARISIEN–
LESS IS MORE
IT'S A MATTER OF ATTITUDE
But more important than clothes and accessories, to be honest, is the right attitude: Parisians radiate nonchalance and self-confidence like no one else. They go through life with ease, without losing elegance and style. The essential thing is to feel confident and good about yourself! After all, if you feel good, you will move in a better and more comfortable way, and eventually you will know which clothes and accessories work for you and which do not. That certain something - "Un certain je ne sais quoi" - will then appear all by itself.
PARIS AS SOURCE OF INSPIRATION
The Parisian style has significantly influenced the world of fashion and has become the epitome of elegance and sophistication. Paris remains an indispensable source of inspiration for designers, trendsetters, and fashion enthusiasts. Just like the clothes and accessories that embody the Parisian style, the concept itself is timeless and will never lose its relevance in the future.